Educational Design Associates, LLC is making its first ever election endorsement, in support of Washington State Initiative 1631.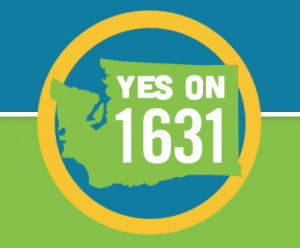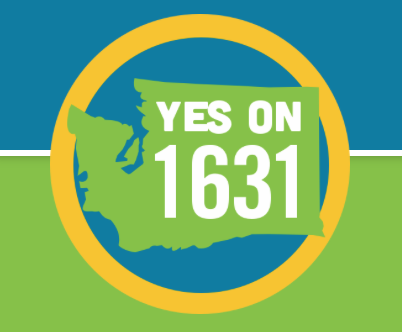 EDA is a small business, expressly nonpartisan and mostly nonpolitical.  We work with schools, youth programs, faith organizations, Native groups, nonprofit agencies, and individual families.  The support, consultation, and at times interventions we provide improve communication, strengthen relationships, and increase the effectiveness of individuals and groups.  So why take the unusual step of weighing in on an election?
The reason is simple. Context matters.  And there is no context more prevalent than our climate.
In schools, we know that the lives of students and teachers outside the classroom, along with the community surrounding the school, profoundly influence what happens in the classroom.  Similarly, contextual factors like funding issues, institutional culture of the school, identified student outcomes, level of family support, and state policy directives greatly influence students' learning experiences.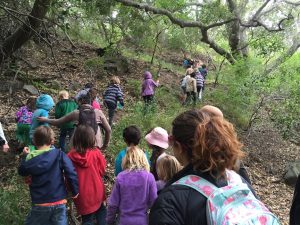 Now imagine a pyramid with vital learning experiences at the top.  Beneath, you would find numerous layers of human support, organizational structure, and physical resources upholding that ultimate objective.  The largest and most basic layer of the pyramid would be a healthy ecosystem.  The direct threat to our global ecosystems posed by the climate crisis is what has led us to support Initiative 1631.
This first-of-its-kind legislation will trigger a significant and greatly overdue shift toward a clean energy economy.  For the first time in Washington State history, polluters will be required to pay a modest fee for reduced air quality and increased atmospheric carbon.  This $15/metric ton fee provides an incentive to reduce pollution.  Moreover, the fees collected will be used to clean up pollution and create clean energy jobs.  The result is that the more carbon produced, the more funding will be available to help transition our state toward a reduced carbon footprint.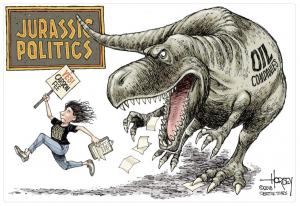 Initiative 1631 is vitally important because the climate crisis is reaching ever-greater and more damaging proportions.  Fires, floods, hurricanes, and droughts have become commonplace and devastating. And since today's political reality is dominated by propaganda that frames real issues affecting everyone as fringe partisan concerns, citizen action is necessary to shift climate policy to serve the greater good.
As of this writing we have just five weeks left before the November 6thelection.  There is arguably no more vital issue on the ballot in Washington State than Initiative 1631.
Indeed, 1631 will have impacts reaching far beyond Washington.  Since 1631 sets a precedent that other states will be likely to follow, passing this initiative will have wide-ranging and potentially transformational effects upon the climate crisis.  Environmental author Bill McKibben, speaking in Seattle on September 18th, described the campaign to pass I-1631 as  "the most important work that is being done on this planet."  Given the rapidly increasing urgency of the climate crisis, we believe that McKibben is right.
One other important aspect of I-1631 is that it is supported by the broadest coalition of any initiative in state history.  Labor unions, communities of color, faith organizations, Native Nations, low-income advocacy groups, and environmentalists have all lined up in support.  Why such a broad coalition?  Because the fiscal priorities built into 1631 funnel a significant amount of spending into disadvantaged communities that suffer most from environmental damage.
The environmental movement has long been dominated by privileged white people.  This has led to shortsightedness, along with legitimate accusations of elitism aimed at environmentalists.  Yet those most affected by pollution and other environmental damage are disproportionately people of color and those of lower incomes. Initiative 1631 refreshingly addresses the issue of climate justice by allocating funds to create jobs and develop cleanup projects within disadvantaged communities.  The measure even gives Native Americans a voice in how cleanup revenue will be spent!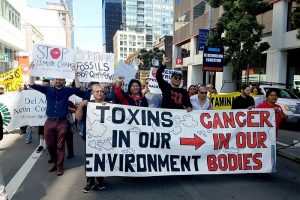 Add all this together – an incentive for polluters to reduce their impacts, a mechanism for creating clean energy jobs, overdue action to address the climate crisis, a precedent for other governments to follow, and consideration of the needs of disadvantaged communities – and you have win-win-win legislation.
Now we just have to pass Initiative 1631!
Here's what you can do:
Vote. At the most basic level – requiring no additional effort– Washington residents can be sure to vote YES on Initiative 1631 when you get your ballot in the mail.
Talk.  Talk with your friends, family, neighbors, co-workers, book group, knitting circle, whomever, to be sure they are aware of the importance of I-1631 and will vote for it.
Donate. Unsurprisingly, oil companies are pouring millions into fighting 1631; they would rather pollute for free! Help 1631 with whatever gift you can afford.
Make calls. From the comfort of your home, you can call people in whatever time you have available. It's fun to help spread the word about this powerful initiative!
Go door-to-door. As of this writing, EDA's Daniel Kirkpatrick has visited over 200 homes to inform voters about 1631. Again, it's fun, and it makes a difference!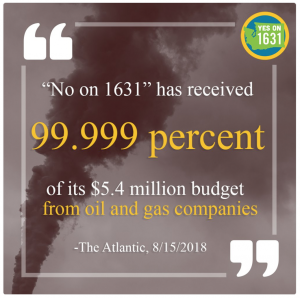 There is a lot of money stacked up against this important initiative.  Yet if enough people get to the polls, I-1631 will pass.  The benefits are clear to you, to us, and to everyone who learns!
Please do what you can to make this essential initiative into law!
Parenting Tip:  Elections are a great time to get kids looking at the larger world around them and to help cultivate critical thinking skills.  Discuss the various ballot measures and candidates with your kids, and seek out their opinions.  Sharing the Washington State Voter's Pamphlet and showing young people the decisional process that you as a thoughtful voter engage in will help prepare them to be informed voters themselves.  (We just learned that the local League of Women Voters has invited high school debate teams to be involved as presenters at an upcoming voter's forum!)  Kids' opinions matter.  Honor those opinions by seeking them out, and find out which areas your kids think individual votes can make the greatest difference.